Natiddy Mini Chainsaw Review: Learn Why I Love It
Are you currently in search of a mini chainsaw? Well, follow me as I take you on a quick journey through my latest acquisition – the Natiddy Mini Chainsaw. I'll be sharing my firsthand encounter with this tool, giving you valuable insights to help you determine if it's the perfect match for your needs. So, come along as I recount my experience and help you decide if the Natiddy Mini Chainsaw is the missing piece in your toolkit!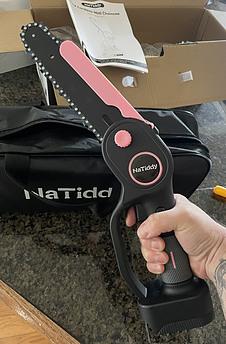 Why I Chose The Natiddy Mini Chainsaw
I've been actively searching around for a small chainsaw because the weeds, trees, and shrubs have been overgrowing on my property.  I do already have a hedge trimmer to take care of the shrubs, but it can only handle a certain thickness of cutting roots.
I'm a member of an Amazon group that often finds deals on common household items and tools, and when I saw this one and it's reviews I figured I would give it a shot.  I took advantage of a coupon from Amazon at the time of purchase, be sure to check it out on Amazon to see if there are any promotions for it!
What's Included With The Natiddy Mini Chainsaw?
When I opened the box, all of the items were inside a bag with a handle.  I especially liked this because it helps keeping me organized with the amount of tools I own.  You'll receive the saw, a battery, a charger, an oil bottle (no oil inside), and the instruction manual.  If you decide to grab the bundle, you may get more items such as safety glasses, gloves, and more batteries.
The one thing that was a slight nuisance was that there was no oil included.  So I did some digging, and according to NaTiddy's Listing On Amazon (See Description), "Using ordinary lubricating oil to lubricate are enough."  So for mine I have used WD-40.
Natiddy Mini Chainsaw Review by Feature
Efficient Cutting Power 9/10
The Natiddy Mini Chainsaw truly impressed me with its ability to handle demanding tasks without breaking a sweat. During a recent brush cleanup, it effortlessly tackled substantial staghorn sumac with roots as wide as 4 inches. This level of cutting prowess assures me that it's up for the task, no matter how challenging.
Ease Of Use 9/10
What I appreciate most about the Natiddy Mini Chainsaw is its user-friendly design. It fits comfortably in my hand, and the thoughtful addition of a safety switch adds an extra layer of confidence while I work. It's a simple tool that doesn't require a learning curve, making my tasks safer and more manageable.
Battery Life 8/10
Waiting around for tools to charge can be frustrating, but not with the Natiddy Mini Chainsaw. Its quick charging feature means that I spend more time working and less time waiting. Even better, its battery life holds up well, allowing me to get through my tasks without interruption.  I was able to effectively use this for around 2 hours total, and there was still battery life left.
I took off 2 points because there is no way to see how much battery life is left.  There's no display for it.
Safety 10/10
Safety is a top priority for me, and the Natiddy Mini Chainsaw delivers on that front. Releasing the trigger immediately stops the chain's motion, providing peace of mind in case of any unexpected situations. This safety feature has made me feel more in control and secure while using the tool.
Versatility 10/10
I've found the Natiddy Mini Chainsaw to be surprisingly versatile. From tackling small weeds to cutting through materials of moderate thickness, it has handled various tasks around my property. While I haven't had the chance to test it on larger trees, its consistent performance so far gives me confidence in its capabilities.
Maintenance 10/10
Maintenance shouldn't be a hassle, and the Natiddy Mini Chainsaw keeps it simple. Regular chain lubrication and the easy-to-access compartment (small "button" above the logo is actually a screw to open it) for cleaning ensure that I can keep the tool in good condition without any headaches. It's a practical design that aligns with my preference for straightforward upkeep.
Value 10/10
As someone who values quality without breaking the bank, the Natiddy Mini Chainsaw has been a pleasant surprise. Its solid construction and manageable weight reflect its durability, and I'm confident it will last. It's a tool that feels like a worthy investment, offering excellent value for the price.
Conclusion
Reflecting on my journey with the Natiddy Cordless Chainsaw, I can confidently vouch for its efficiency and reliability. This tool effortlessly found its place in my toolkit, effortlessly tending to my property maintenance tasks. Regardless of whether you're an experienced user or a beginner, I genuinely believe this chainsaw has the power to become an essential partner. Don't hesitate to give it a shot – discover for yourself the convenience, versatility, and value that the Natiddy Cordless Chainsaw has to offer.