Shed Kits: The Top 7 Shed Kits To Buy Online (2023)
Investing in a shed can vastly improve your outdoor organization and storage capabilities. Fortunately, online shopping offers the convenience of having shed kits delivered directly to your doorstep. Here's an in-depth look at the top 7 shed kits available for online purchase, each offering unique features and benefits to consider:
#1 Suncast 8′ x 10′ Storage Shed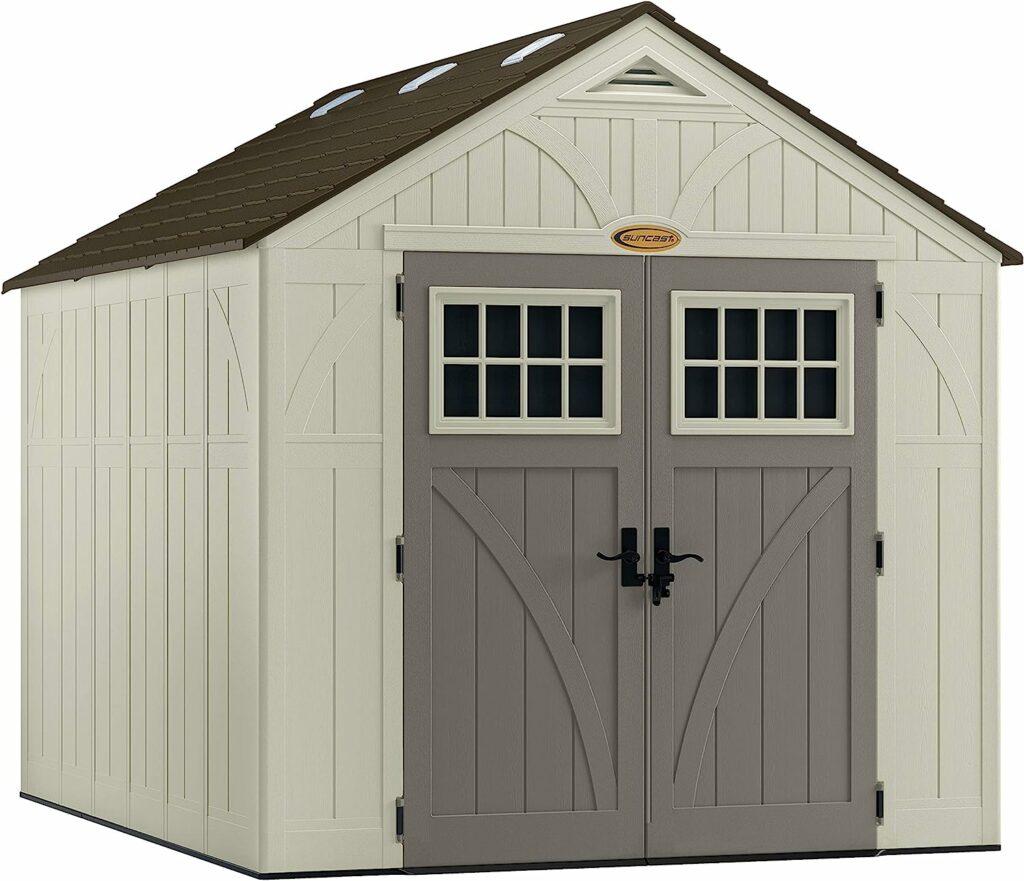 The Suncast 8′ x 10′ Storage Shed is designed for those seeking substantial storage space. With a voluminous capacity of 574 cubic feet, this shed accommodates large items with ease. Its double doors, equipped with windows, simplify the movement and storage of oversized possessions.
Constructed from robust blow-molded resin, this shed ensures both durability and aesthetics. The resin material is not susceptible to rust or rot, ensuring a long-lasting, professional appearance. Featuring a weatherproof plastic roof fortified with a metal truss system, the structure withstands various weather conditions. The presence of two windows and six skylights ensures sufficient natural light during daytime usage. Additionally, the inclusion of two corner shelves optimizes storage and enhances organizational capabilities.
#2 Monarch DIY 10 ft. x 8 ft. Outdoor Shed
For those inclined towards DIY projects, the Monarch Do-it Yourself 10 ft. x 8 ft. Outdoor Shed provides an enticing option. Its patented EZ Frame design streamlines the assembly process, reducing installation time. Pre-cut wood components facilitate straightforward installation using common household tools. This shed is customizable, allowing for paint and shingle additions (not included) to match your home's aesthetics. Featuring 64-inch-wide double doors, accessing and storing larger garden equipment is convenient. Sturdy 2 x 3 construction ensures resilience in unfavorable weather conditions. The treated wood floor frame is prepared for plywood or OSB decking (not included), offering flexibility in flooring customization.
#3 Devoko Outdoor Metal Storage Shed 5 x 3 FT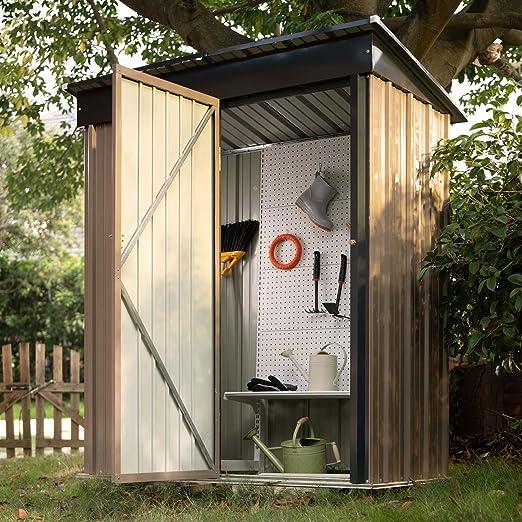 The Devoko Outdoor Storage Shed is tailored for garden enthusiasts seeking both storage and visual appeal.
Boasting dimensions of 5 x 3 ft, it provides 67 cubic feet of storage capacity. This shed accommodates garden tools, outdoor items like bikes and tents, and aids in maintaining an organized garden space.

The all-metal structure is founded on a steel frame and features electro-galvanized steel processing and paint treatment. This construction ensures durability across varying climates, safeguarding against rust and providing excellent moisture-proof performance. Lockable doors, standing at 61.2 inches, offer security for stored belongings. The grey exterior blends harmoniously with garden surroundings.
#4 UDPATIO Outdoor Storage Shed 4×6 FT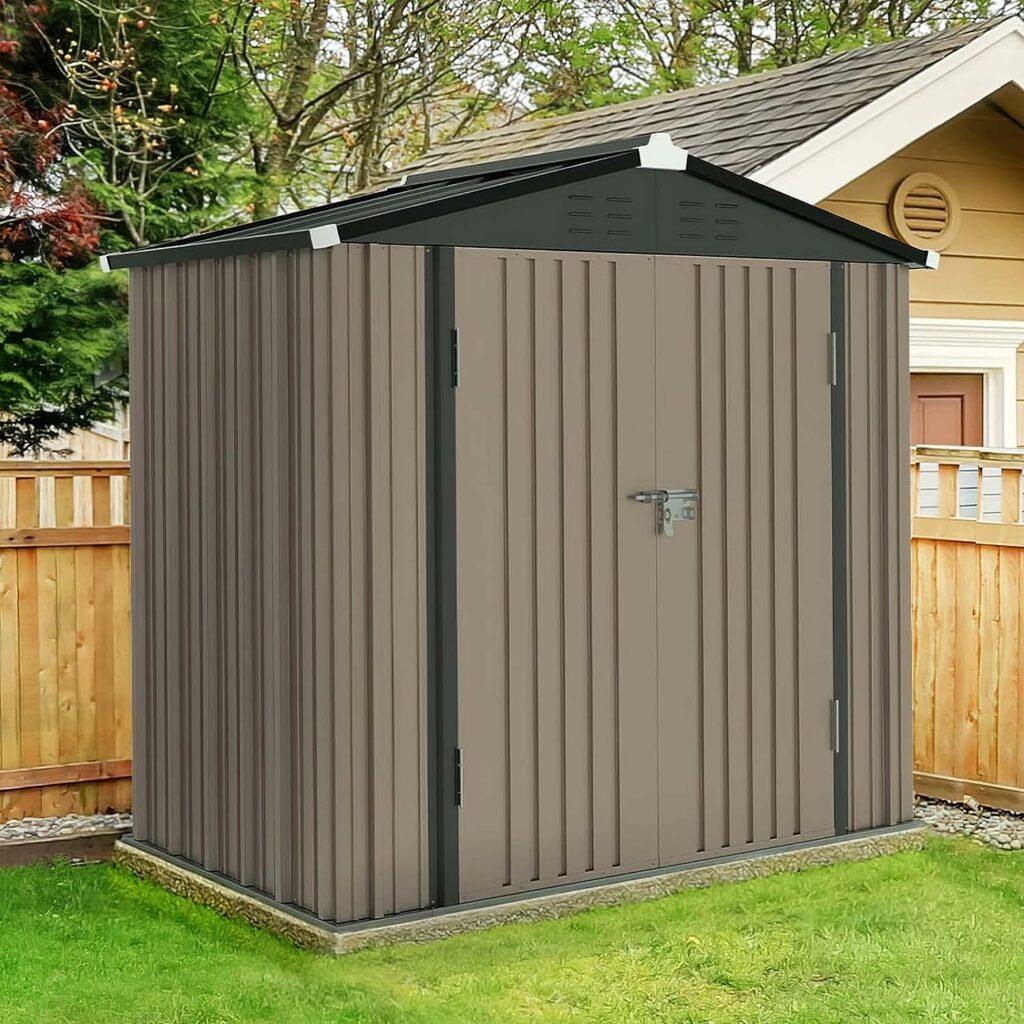 The UDPATIO Outdoor Storage Shed, sized at 6′ x 4′, offers adaptable storage solutions for various items.
Its dimensions comfortably accommodate snow blowers, lawn mowers, outdoor chairs, umbrellas, fire pits, bikes, skateboards, and more. Beyond storage, this shed can transform into a bike shed, a pet house, or even a small restroom. The durable galvanized steel construction provides resistance to rust and UV damage. The sloped roof design prevents water accumulation and rusting. Pad-lockable doors enhance security, while proper ventilation prevents the shed from becoming musty during hot and humid conditions.
#5 Do-it Yourself Windemere 10 ft. x 12 ft. Wood Shed
The Do-it Yourself Windemere 10 ft. x 12 ft. Wood Shed unites contemporary aesthetics with functional versatility. Standing tall at 10 feet with over-sized, 7-foot-high side walls, this 12 ft. x 10 ft. storage shed excels in both form and function. Engineered wood siding resists fungal decay and wood-destroying insects. Choice 2×4 wood framing ensures structural integrity from ground to peak. Pre-hung double doors, with integrated transom windows, enhance durability and prevent sagging. With a storage capacity of 1018 cubic feet, this shed caters to storage, recreation, workspace, or a personalized retreat. It includes a wood floor, Deluxe Window Suite, Appearance Package, Organization Package, and a keyed locking handle. Assembling this Ready-to-Assemble wood shed kit requires basic tools, and illustrated instructions and hardware are provided.
#6 Garden Shed Do-it Yourself 6 ft. x 8 ft. Wood Storage Shed
The Garden Tool 6 ft. x 8 ft. Wood Storage Shed with Galvanized Metal Roof by Handy Home Products presents a tailored solution for smaller yards. Its 6 ft. H side walls offer ample height for hanging pots and gardening tools. The shed's interior houses two 6 ft. wide shelves to keep tools organized and off the floor. Two 48 in. W doors facilitate easy access, while continuous piano hinges prevent sagging. The round air vent ensures comfortable temperatures within the shed. The use of premium lumber resists rot and decay, ensuring longevity. LP SmartGuard treated wood siding provides protection against fungal decay and termites. Notably, this shed kit includes a galvanized metal roof to prevent rusting.
#7 YITAHOME Outdoor Horizontal Storage Shed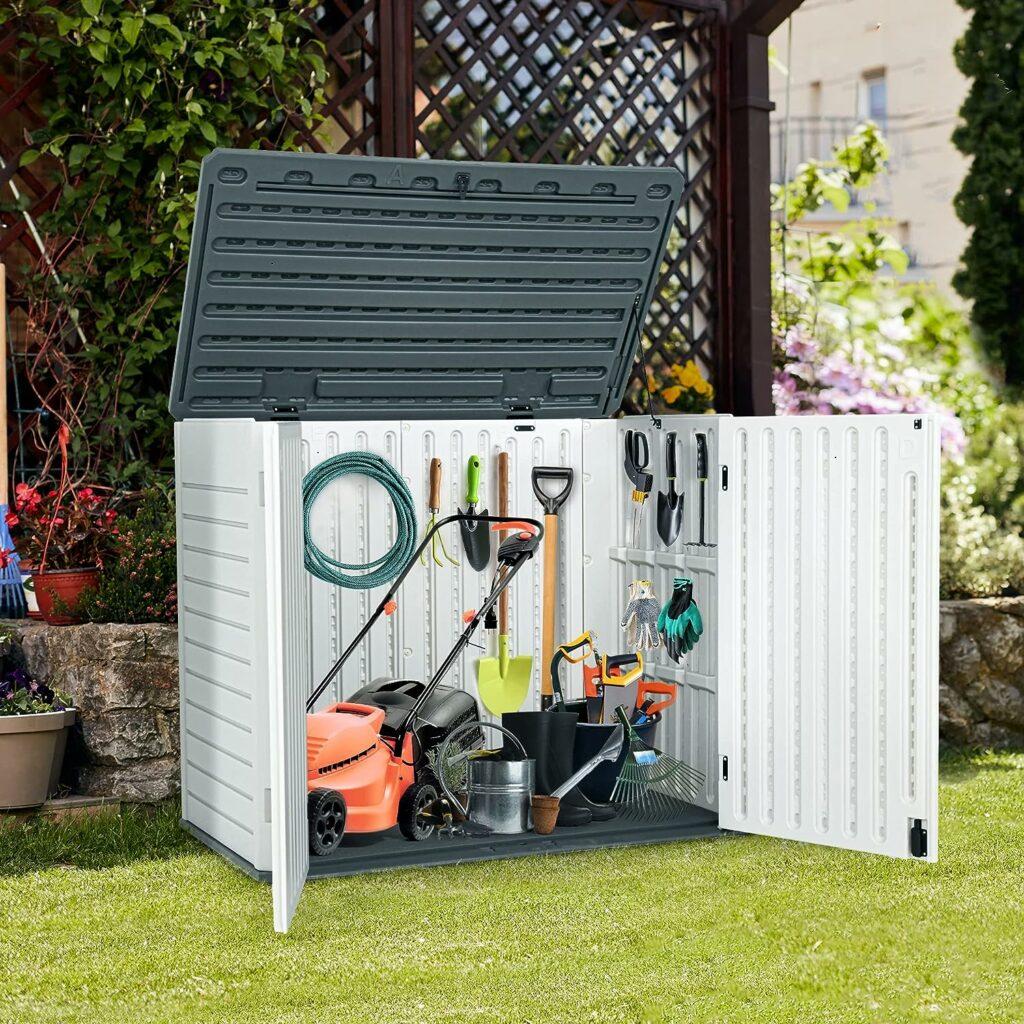 The YITAHOME Outdoor Horizontal Storage Shed stands out for its design and versatility.
This is a great option for those with little space in their yard, or for a starter garden!
The YITAHOME Outdoor Horizontal Storage Shed stands out for its design and versatility. Offering dimensions of 51.1''L x 29.1''W x 41.3''H, this plastic storage shed boasts a capacity of 35 cu ft. The exterior dimensions and innovative lid design effectively prevent water infiltration. The shed's double-wall resin panels, processed through blow molding technology, enhance wind and impact resistance. The incorporation of a support rod facilitates multiple opening directions. The step-on lock anchors the door to the floor for added convenience. A quick, 20-minute installation is facilitated by detailed instructions, and additional laminate shelves can be added for enhanced storage capacity.
Conclusion
These top 7 shed kits available for online purchase cater to a diverse range of storage needs and preferences. By considering factors such as storage capacity, material, construction, and customization options, you can make an informed choice that best suits your outdoor space and storage requirements. Whether you seek durability, versatility, or visual appeal, there's a shed kit on this list to fit your needs.