LEVEL5 Tools HOT Discount Expires Soon!
LEVEL5's "Halfway Through 2022" Sale is Live!
If you've been waiting for that chance to finally bite the bullet on that new LEVEL5 tool or tool set, now is a good chance to grab them!  This deal expires 6/30/2022 or UNTIL SUPPLIES LAST.
They're promoting 15% off all sets and 10% off individual tools.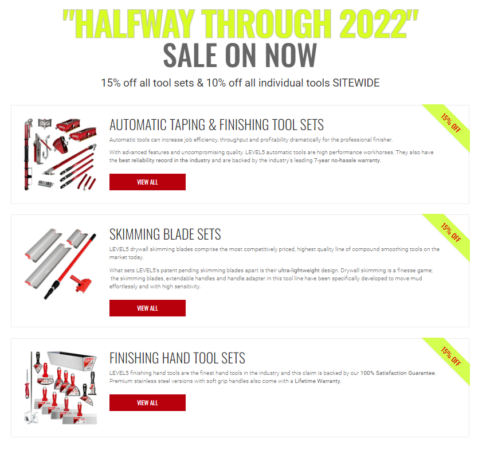 This is an insane deal since the automatic taping and finishing tool sets are quite the investment.  As of this moment, you can save anywhere from $260 to $781 depending on which full set you purchase.  Their starter set – which is retailed at $1,739.95, is on sale for $1,478.96!
OR you can get the individual automatic taper for 10% off.  It's currently $110 off.  That's like one full tank of gas in today's market!
I see these things used all of the time through my feed from other drywallers – they are a hot item!  High quality and lightweight skimming blades with a handle attachment, if you want to save more with the set discount 😉
Hand Tool Sets are all running 15% off right now if you're almost ready for an upgrade.  If not, don't forget this deal expires June 30th of 2022.  I've had my current stainless steel set for 2 years now – and still, not one speck of rust on them.  The tools are worth even the full price, it's up to you if you want to save some money on it.
Offset knives, flex trowels, and all individual tools are 10% off!
---
About LEVEL5 Tools
LEVEL5 Tools is a family-run business based out of Kansas City, US.  They are a key player in the drywall tool market, creating tools to help make drywaller's jobs easier, more efficient, and more profitable.  LEVEL5 Tools stays on top of the competition through innovation and dedication to quality.