Hire Contractors Nearby Now Easier With These Apps
Best Websites/Apps To Hire Contractors Nearby
Are you looking to hire contractors nearby?  Many contractors go by word of mouth, but a lot of them have adapted to using internet-based services to reach customers.  This has made it easier than ever for customers to get quotes on projects for their homes.
I've been in the construction trade for years now, so I know what these apps are like on the contractor side.  Before I get into the best websites and apps to hire a contractor, I've compiled a few tips to help new homeowners when it comes to getting estimates from contractors.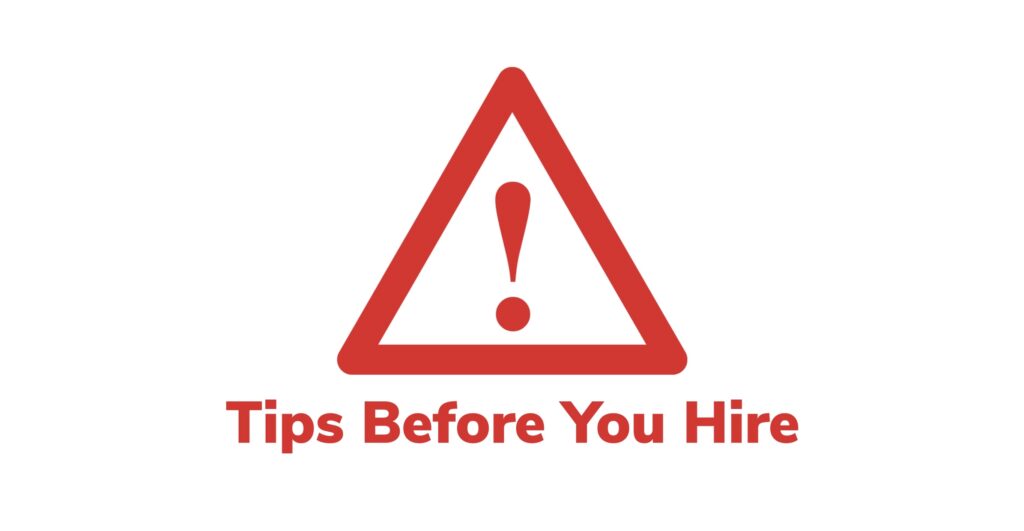 Get photos of a contractor's work before you hire them
With all of the websites available today, contractors should be listed on Google, Facebook, or Instagram.  Some of the best websites/apps provided below should also contain photos of their work.  If they do not have any photos, I'd say tread carefully.  If they cannot show photos of their work, they could possibly be very new to the trade or worse – a scammer.
How You Should Pay A Contractor
If you're hiring a contractor for a job in your home, you should expect to pay at most 50% upfront.  This can vary depending on the contractor.  Some may do a 30/30/40 split, etc.  What this essentially means is spreading out the payments over time as the work is getting done.  NEVER pay someone up front for an entire job.  A good contractor will have a payment arrangement outlined in a contract.
Have A Contract!
A contract is there to protect both parties.  I know this may seem obvious, but I've seen many customers that have given a contractor all of the payment up front, and never had a contract or start date in place.  You simply cannot go by word of mouth.  Even if you think the person is very nice, an even nicer contractor is professional to protect the homeowner and himself/herself.
Check Their References
This may be the old-school way of doing things, but it's helpful if they aren't to be found on social media.  Ask if they know of anyone who would be happy sharing their opinion on the work the contractor did.  Perhaps they know a friend or family member.  Do some research if you have the time, if not, get someone else for an estimate.
Get A Second Or Third Estimate
It can be a competitive market out there, but some contractors can vary in price.  Many contractors have a saying, "I wouldn't get out of bed for under $500 a day".  Some may be higher than $500 a day, but some contractors can be lower.  You should get different quotes from different contractors.  The contractor that will get you the most value and comes across as the most professional, should win the bid.  No hard feelings toward the others.
Cheaper Isn't Always Better
If you're looking for the cheapest price for a contractor for a home project, I would recommend going above and beyond to make sure you gather information about the contractor. Search for any reviews, mutual friends, or anything you can.  Some may do work for cheaper, but the value isn't always what you might expect.  The same can go for the most expensive as well!  Trust your instincts.  Have a contract.  Be protected if you have doubts.
Now that we've covered the important stuff in hiring contractors near you, I'm going to dive into the different websites (or apps) you can use to hire.  This will make the process much easier for you, and also give you a better idea of pricing.
Hire Contractors Nearby Using HomeAdvisor
HomeAdvisor is one of the most popular websites to hire contractors.  They have merged together with Angi, formerly Angie's List.  So technically, their merger makes both companies Angi, Inc.  HomeAdvisor now has the "powered by Angi" after the business name to represent this.
Angi, Inc. is now (formerly) Angie's List, HomeAdvisor, and in recent years they also acquired Handy.  These are definitely the top players in today's market.
As a homeowner, you are not charged for using HomeAdvisor's service.  HomeAdvisor charges contractors for obtaining your contact information as a potential lead for service.
A quick HomeAdvisor breakdown:
A potential customer, Johnny, signs up through HomeAdvisor and selects a service they want.  They provide their contact information, which then goes to the qualified contractors for that specific service.
Contractors on HomeAdvisor receive a notification on their phone/email that "Johnny" is looking for a service.  They can then either skip Johnny (no payment) or, they can select Johnny (paying HomeAdvisor a small fee) to uncover his contact information.
Now with Johnny's contact information, he will get a call, or he may get many calls from different contractors.  Any contractor that is in contact with Johnny has paid to view his information as a lead for potential service.  The hiring power is in his hands!
Why I Like HomeAdvisor
HomeAdvisor is one of the top companies out there to find pros.  Within their website, you'll also have access to contractor reviews.  They even award contractors with a badge on their profile if they have 4.5-star ratings or above.  They reward their contractors for going above and beyond to help their customers.
If you are currently a contractor and are interested in utilizing HomeAdvisor to get leads for service, you can join HomeAdvisor Pros here at the New Contractor Enrollment.
HomeAdvisor also has a storefront for popular home services with fixed rates.  These are typically smaller jobs, such as needing a handyman for odd jobs, a one-time house cleaning, or an end-of-summer yard clean-up – you can view all of their services and rates here.
Hiring Contractors Through Thumbtack
Thumbtack works similarly to HomeAdvisor.  Thumbtack charges the contractor for performing the service.  Since all jobs vary, the fee amount does as well.  You're able to view photos, reviews, and how many years the contractor has been in business.
A big difference with Thumbtack is they offer a Thumbtack Plus subscription.  Consider it a membership for $49/year that gets you a $10,000 money-back guarantee, 20% off on-demand bookings, and support from home specialists.
The biggest value here is for on-demand bookings.  This goes for things like home maintenance, such as lawn mowing, house cleaning, pest control, etc.  You'll get 20% off, which may end up paying for itself!
What I like about Thumbtack
Thumbtack is branched out into so many areas, and I love the direction they have headed into.  You can find help with starting a business, pet care, computer repair, lessons – there's so much offered!
TaskRabbit For Hourly Rates
TaskRabbit and Thumbtack are very close in features, but it may be hard to find contractors because it is not as widely used.  TaskRabbit is useful if you are looking for minor home repairs, if you would also like to hire a contractor hourly instead of by the job.
With Taskrabbit, you are able to see a contractor's hourly rate to give you a general idea of how much you can expect to pay.  Taskrabbit isn't used as much by contractors for this very reason, since most contractors charge by the day.  It is excellent if you are looking for some odd jobs around the house though and don't want to pay a contractor for a full day of work!
If you're looking to hire contractors nearby, HomeAdvisor, TaskRabbit, and Thumbtack are the easiest websites and apps for hiring. It has never been easier to find a contractor for any home project you have. If you've hired from any of these websites before, let others know your personal experience in the comments below!