5 Ways To Find Painting Contractors Near Me
There is always a big demand for finding painting contractors near me.  Whether you are looking to freshen up your walls, paint the outside of your home, or are in the process of building, knowing where to find a good painter can be tough!  So I compiled 5 key ways you can find painting contractors nearby.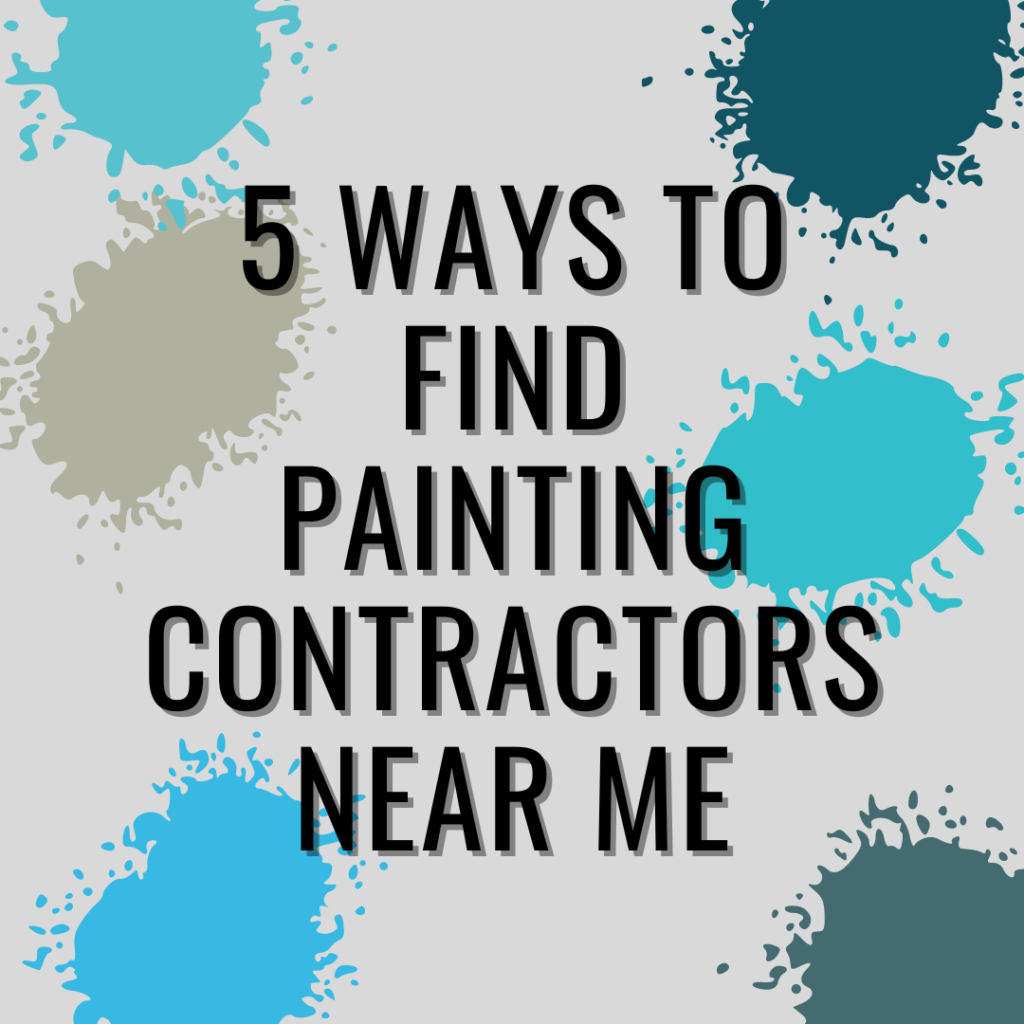 I am the owner-operator of a drywall and painting company by day and a blogger at night.  When I first began my company, I had to find ways to get my name in front of others to know I'm available for hire.  I researched the key ways that customers would be most likely to find me as a drywall and painting contractor.
Before you hire a painting contractor, I want to cover a few big tips that you should look for when it comes to hiring a painter.  There have been times I have had to fix others' work, and it's nothing but hard on you as the consumer.  You're either stuck battling for money back, or you wipe your hands clean and hire a different guy.  So here are my top tips, followed by 5 ways to find a painting contractor near me!
Tip #1: Ensure The Details Are In The Estimate
A good painter will have a well-written estimate that covers the scope of the work.  In my estimates, I like to go over every single detail that the boss (you, the homeowner) request.  This could be things such as:
Are they insured?
How long is the work guaranteed?
The specific brand, color, and sheen of paint they're using.
If you choose the paint, make sure that is outlined in the estimate.
Will they be doing minor touch-ups before painting – This is very important to a lot of homeowners.  I get this request a lot because I do drywall repair as well.  Drywall repairs should be outlined beforehand, unless you DIY drywall.  This can cover dings, dents, and scratches on the wall.  Or more extensive repairs such as replacing drywall tape.  If you do not mention it, the painter will paint over it!
Is the trim also going to be painted?
Will they have the proper floor covering? (Such as rosin paper or carpet shield)
The method of painting – Roller, Brush, or Spray
Will they be priming the walls before painting?
Will the ceiling be painted as well?
When does work begin and how long will it take?
All of these things are points to bring up during the estimate and should be outlined within the written paint estimate.
Tip #2: Get 2-3 Estimates From Different Painters
If it's your first time hiring a paint company near you, it's a good idea to get a few estimates before hiring.  You want to do this simply because you might not know the market around you.  Many areas of the US have different pricing per square foot when it comes to painting.  By getting two or three, you have more options – and have a better idea of what the going rate is around you.
Hot Question: How much should a painter cost?
Hiring a painter can cost anywhere from $2 to $6 per square foot of area painted.  Keep in mind, this isn't the square feet of the floor.  You have to total up each wall to get the square feet.  Putting it this way, let's say you have a perfectly square room with 10-foot-long walls all the way around.  In this example, each of the walls are 8 feet tall.  So, to calculate:
Wall 1: 10' Long x 8' High = 80 square feet (10 x 8)
Wall 2: 10' Long x 8' High = 80 square feet
Wall 3: 10' Long x 8' High = 80 square feet
Wall 4: 10' Long x 8' High = 80 square feet
Ceiling: 10' Wide x 10' Long = 100 square feet
The total square feet for all of the walls combined is 420 square feet.  So for this 10×10 room with ceilings included, you can expect to pay anywhere from $840 – $2,520.
Now that you've gotten a good idea of the process of hiring a painter, let's go into the 5 ways to hire a painter nearby!
Is Google Safe To Find Contractors?
Google is known for its' fast ability to access your search term quickly and as a bonus, it uses your location when you specifically request "nearby" or "near me".  Most businesses are set up on Google, however, some still aren't.  In order for a business to be on google, all companies must submit proof to google.
Once the proof has been submitted to Google, Google will mail out a code for the company owner to verify their address.  This ensures that when you do find a painting contractor on google search, they're most likely legitimate.
Determining legitimate google listings to find painting contractors near me
One of the key things you'll want to look into for any company will be the number of reviews, and how high they are rated.  I encourage everyone to go through both the positive and the negative reviews to get a good concept of the painting company and how they handle business.
The downside of finding a great company you would like to work with is usually the amount of time you may have to wait for painting.  If a 5-star-rated painting contractor is listed on google, there's a very good chance they have a lot of work lined up!  They may be booked out for months, or even until the next year.  If this is the route you go, definitely call to get a time frame!
Ask Family & Friends For Good Painting Contractors
Finding good painters nearby usually spreads around by word of mouth.  There are many times I see friends posting about recent work they've had done inside their home by a particular company that did well.  If you have a social media account, such as Facebook or Instagram, you can create a post looking for "recommendations for a painter near me".  This will give you an opportunity to get contact information from friends and family of a good painter in your local area.
I always like it when any company I hire has a social presence through Facebook and/or Instagram.  It allows me the chance to look through photos and reviews (other than google reviews) from that particular company.  You can also see which of your friends have "liked" or "follow" that page.  If any are close friends of yours, it's a great idea to shoot them a quick message and ask how they know them.  It's always best to do a bit of research!
Painting Contractors Near Me Via ThumbTack
Thumbtack is an app (and website) you can use to hire local painters nearby, not only for painting – but for other projects too.  You can easily search for your project request within Thumbtack and contractors' profiles will appear.
You will see the name of the company, their star rating, reviews, and how many people have hired them through thumbtack, and you can easily schedule an estimate within the app.  The only pricing you may see – is for the cost of an estimate.  Many offer free estimates, however, some do charge for estimates and may waive it if hired.  Keep that in mind when hiring a painter nearby on thumbtack!
Find Painting Contractors At Local Paint Stores
If you have a paint store that is local to you, such as Sherwin Williams or Benjamin Moore, they will have a directory of known painters in the area.  If you go to the front desk of any of these stores, you can tell them the details of your paint project and they will find you some options for paint contractors nearby.
As a painting contractor verified through these two companies, we get access to some hefty discounts on paint.  So if you do go through Sherwin Williams or Benjamin Moore, make sure the contractor gives you the contractor pricing on paint.  It's a win for you as the customer saving money and it's a win for the paint contractor making money!
Painting Contractors Near Me Using HomeAdvisor/Angi
HomeAdvisor (powered by Angi) is one of the top ways to find painting contractors.  It's a whole network of contractors that pay to be listed and must be verified in order to join.  HomeAdvisor is free for any homeowner looking for a project.  They do not take money from the homeowners or charge a fee for finding a painting contractor nearby.
When you sign up for a free account, enter your zip code, and enter the details of your project to find painting contractors nearby.  If a painting contractor wants to reach out to you to schedule an estimate, they pay a small fee to uncover your contact information.
HomeAdvisor reaches out to anyone that has hired painting contractors in order to get an honest review about them.  You're able to see photos from painting contractors, browse their reviews, and you can reach out to them directly if you prefer.
Conclusion
In conclusion, finding a painting contractor near you is a manageable task with these five methods at your disposal. Remember to consider factors like pricing, reputation, and availability when making your decision, and don't hesitate to request detailed estimates and references from the contractors you're interested in. By following these steps, you'll be well-equipped to find a skilled and trustworthy painting contractor for your project.