The Top Reasons You See Cracks In Ceiling Drywall
What Causes Drywall to Crack On Ceilings
There are quite a few causes of cracks in ceiling drywall.  This is a regular job I'm usually called to fix in my day-to-day drywall repair business.  A majority of the time, most homeowners simply want to just repair the crack – which is totally okay (unless it's water damage).  However, I can never guarantee it will stay crack free over the next year because it could be due to other issues.
Reasons Why Drywall Cracks On Ceilings
In my experience, drywall cracks form on ceilings from either water damage, the house settling, or improper installation of drywall.  How can I tell which?  I start with the simple one first – Water damage.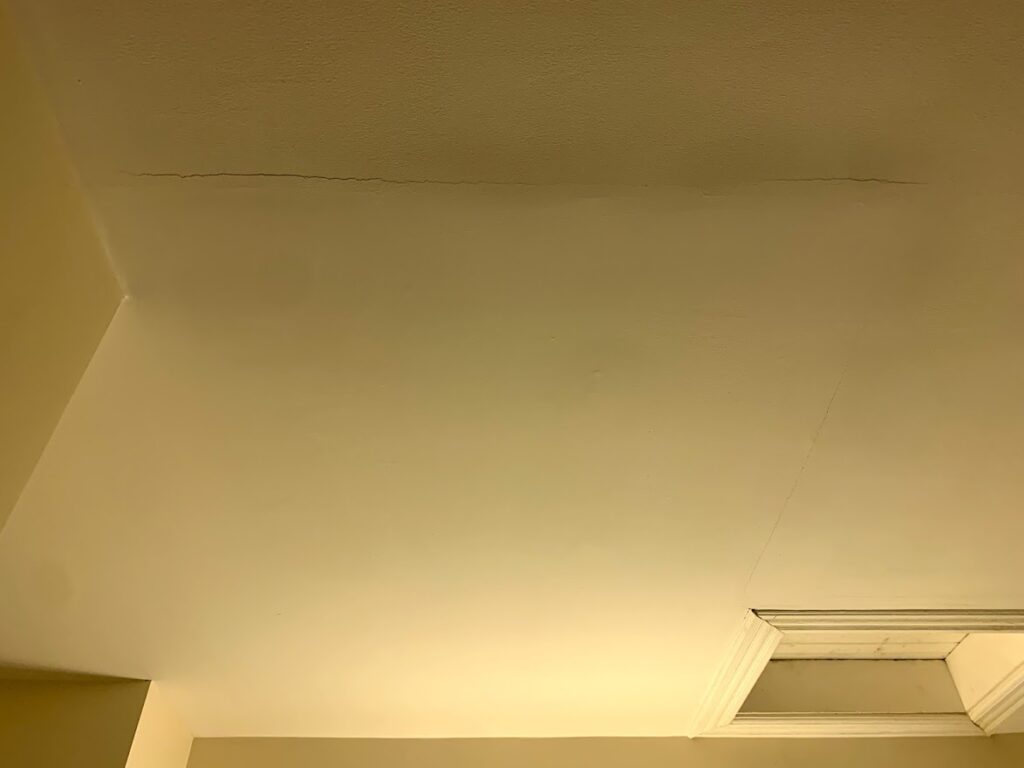 Cracks In Ceiling Drywall From Water
These may be the most obvious because if it's wet or leaks water, you know that is the issue.  Most of the time, when there is a leak on a drywall ceiling it is due to either plumbing or roof leaks.  If you live in a one-story home and are getting water leaks – it is most likely due to a roof leak.  If you live in a two-story home, and you're getting first-floor ceiling leaks, it is most likely due to plumbing.  If the leak is on the top floor, it is most likely from the roof.  If you're getting ceiling cracks from water damage, it's best to repair the leak first, unless you like paying for repeat work from a drywaller.
In a majority of drywall repairs on ceilings caused by leaks, the water tends to pool in one area (behind the drywall) or, the water follows the line of the tape seams.  When the water is pooled into one area behind the ceiling, there will be a visible stain on the surface.  Don't be alarmed, but stains on ceilings can also be caused by rodents! If you inspect no water leaks and often hear critters in your ceilings – it's a good idea to get that checked out.  Squirrels and mice can be messy!
Ceiling Cracks From House Settling
If you start to see ceiling cracks in drywall and suspect that your house is settling, there are a few clues that will help you determine if this is the cause:
Cracks in your foundation
Cracks around doors and windows
Uneven floors
Doors will not fully close
If your house was built within 1-3 years
If you're a typical DIYer for things around the home, this is something I wouldn't tackle myself.  I always recommend hiring a contractor nearby that has worked on this before.  A lot of the time, this task can require lifting the house up over time, and cement work.  As a drywall contractor, I am hired to fix the symptoms of drywall cracks from the house settling, not the actual cause.  This is especially true for new home buyers.
A lot of calls I get for ceiling crack repairs are usually on newer homes that were built within 1-3 years.  This is due to the speed at which newer homes are built and definitely a good sign it's caused by the foundation settling.  There have been slightly newer homes I have worked on that were caused by poor installation of the drywall
Cracks In Ceiling Drywall Caused By Poor Installation
There have been jobs I've repaired that were caused by a poor installation by the initial drywall contractors.  I don't want to bash drywall contractors in general because a lot of them know their stuff, and do great work.  But every now and again, I will get a call from someone who had either fired their contractor, or cracks began to show months after their installation.  These are the top mistakes I've witnessed (and repaired) from other drywall contractors.
 They didn't stagger the drywall.

From the beginning of a home build to the very end, things are staggered.  This is for the overall strength of the home.  It will eventually lead to a very long crack over the span of a ceiling.

They didn't place the end of a piece of sheetrock on a stud.

When this happens, I call it a "floating seam".  It's where two pieces of drywall meet but have nothing behind to be screwed into.  This causes two loose ends and they crack easily.  Just taping and mudding over it will not give it strength.

They used mesh tape on a ceiling corner.

Mesh tape is not designed to be used on corners.  Corners should always be done with paper tape.  There are also different products for inside corners, but never ever use mesh tape.  It is weak compared to paper tape.
Conclusion
These are the top things I've personally run into when it comes to drywall ceiling repairs.  If you're looking for how to repair, check out some of these top articles I've written right here at Drywall Central: